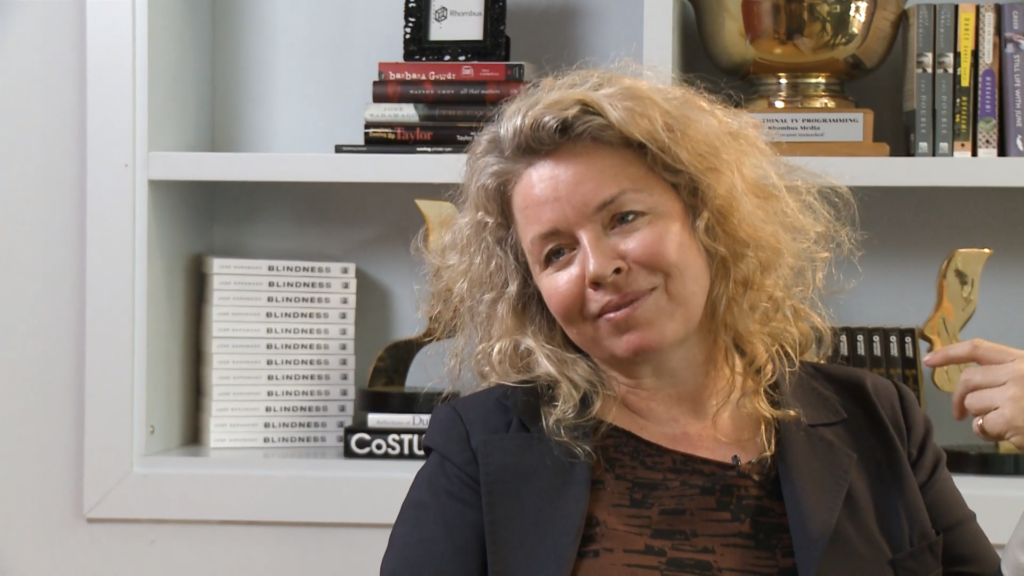 A Conversation with Patricia Rozema
Patricia Rozema's films, though varied in style and content, have always been marked by a humane and tender sensibility. Described as "so fresh, so funny, it amazes the heart" to "visually sensuous" and "wryly sophisticated," her work invariably shows social prescience and deep humanity.
Her first feature, I've Heard the Mermaids Singing, premiered at the 1987 Cannes Film Festival, in the Director's Fortnight, and won the Prix de la Jeunesse. The film opened the Toronto International Film Festival. Rozema directed Six Gestures as part of the Yo-Yo Ma Inspired by Bach series. It debuted at the Venice Film Festival. In 1995, she wrote and directed a lesbian love story, When Night is Falling, which won festival audience prizes around the world and remains a classic in the gay community. Her next films were made outside of Canada. Rozema's elegant progressive adaptation of Mansfield Park (1999) included a controversial inclusion of a sub-plot about slavery "paying for this tea party."
Her socially conscious children's film, Kit Kittredge: An American Girl (2008), starred Abigail Breslin, Stanley Tucci, Julia Ormond, Chris O'Donnell, Joan Cusack, Wallace Shawn, Glenn Hedley, and Jane Krakowski. In 2000, Rozema directed Happy Days (2000), part of an Irish production filming all of Beckett's plays. In 2009, Rozema co-wrote Grey Gardens for HBO starring Drew Barrymore and Jessica Lange. Other television credits include several episodes of the groundbreaking sexually explicit, Tell Me You Love Me (2008) and an episode of the critically acclaimed HBO series, In Treatment (2010) starring Gabriel Byrne and Debra Winger.
In 2016, Rozema completed adapting and directing the feature film, Into the Forest with Ellen Page, Evan Rachel Wood, Max Minghella, Callum Keith Rennie, and Wendy Crewson. She directed two episodes of Amazon's Golden Globe-winning Mozart in the Jungle, starring Gael García Bernal and Lola Kirke and an episode of CBC's, Anne with an E.
Rozema's latest feature, MOUTHPIECE (2018), was adapted from a play of the same name by Amy Nostbakken and Norah Sadava.
(Information from www.patriciarozema.com.
Watch Mansfield Park, 1h 51min, 1999      |      Visit Patricia Rozema's Website:  https://patriciarozema.com
Scenes from Mansfield Park mentioned in this conversation are not included because of rights issues. If you would like to see the film, there is a link provided above to access it on the appropriate platform
01:11 – Patricia Rozema: Almost everything I do is about creating anticipation, right from the very first frame. I always know from the first image, that it has to be something with a question in it; it can't just be self-explanatory. I need something that creates a desire to know what is yet, unanswered. And if I'm doing my job, it's not really completely answered until the end. I'll string it out, I'll feed, I'll give some satisfaction, and then withhold and create, maybe sub-questions underneath an overarching question. And it doesn't even have to be a factual question. If a film is very plot oriented, it tends to be factual who-done-it. But if it's more associative and poetic, then it can be, how will I find relief? And it might be kind of emotional answers, or even musical answers.
06:24 – Dr. Zeig: And you do that beautifully in Mansfield Park, where you start with an ambiguity that the audience can't possibly understand. And yet, it draws us in. So, as you're starting Mansfield Park, we're seeing this ambiguous image and then this close up image…
08:36 – Patricia Rozema: Sometimes I think, 'Okay, I want a joke to work. I'm going to seed two other moments for that joke to sort of hit lightly before the third one lands,' because I believe in threes. I don't know if it's Trinity or what, but they just work. Tadda, tadda, bam. In fact, music is the art all other arts aspire to. I think they have something called an 'agogic.' I think that's a French pronunciation accent, which is we're expecting the note, pause, pause, pause, and then deliver.
11:33 – Dr. Zeig: As a psychotherapist I watch couples as they jump into giving each other feedback, which can border on criticism, which can border on contempt. And we know that if you're booting the computer, you want to do a soft boot, because sending electricity through those delicate circuits…well — this has don't want to do that too quickly. And so, if couples would use a soft startup, which has been researched, and if couples wouldn't start an argument, they would start…ta-da; ta-da; ta-da…
14:34 –Patricia Rozema: I always know the ultimate goal. I know what I want you to feel. I want you to feel relief when these two people come together, and relief when this person who has had power, loses their power. Every decision is made to sort of create, you know, to intensify that.
18:56 – Dr. Zeig: I'd like to look again at some of the micro-dynamic, artistic choices. And this is in the realm of precision. You are remarkably precise. It's like you're thinking out every frame, every shot, every angle, and the precision that you put in –- it's breathtaking. And that affects me, and I feel the emotional impact of that precision.