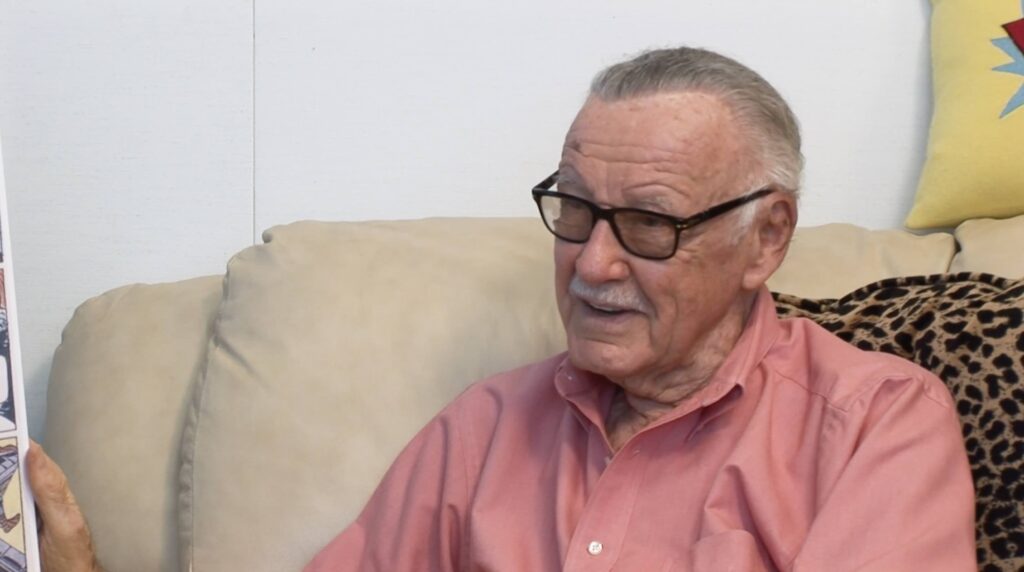 A Conversation with Stan Lee
Stan Lee was an American comic book writer, editor, publisher, and producer. He rose through the ranks of a family-run business to become Marvel Comics' primary creative leader for two decades, leading its expansion from a small division of a publishing house to a multimedia corporation that dominated the comics industry.
In collaboration with others at Marvel—particularly co-writer/artists, Jack Kirby and Steve Ditko—he co-created numerous popular fictional characters, including superheroes Spider-Man, the X-Men, Iron Man, Thor, the Hulk, Black Widow, the Fantastic Four, Black Panther, Daredevil, Doctor Strange, Scarlet Witch and Ant-Man. These and other characters' introductions in the 1960s pioneered a more naturalistic approach to superhero comics than previously. In the 1970s, Lee challenged the restrictions of the Comics Code Authority, indirectly leading to changes in its policies. In the 1980s, he pursued the development of Marvel properties in other media, with mixed results. Following his retirement from Marvel in the 1990s, he remained a public figurehead for the company, and frequently made cameo appearances in films and television shows based on Marvel characters, and he received an executive producer credit.
Lee continued independent creative ventures into his 90s, until his death in 2018.
Lee was inducted into the comic book industry's Will Eisner Award Hall of Fame in 1994 and the Jack Kirby Hall of Fame in 1995. He received the NEA's National Medal of Arts in 2008. 
(Information from Wikipedia)
02:13 – Dr. Zeig 
Okay, what I would like to do is to talk with you as a creative person, and to try to pick your brain and to see if we can extract some of the codes, some of the ways that you think when you are creating, I have here, issue number 100 of Spiderman. And this is something that you wrote. So, I if put this on a large board and take out the writing… I don't want to put you on the spot…but if you can, set up the story. What would you put in the title, and in the balloons?
04:34 – Dr. Zeig
If I am deconstructing that and trying to understand as a creative person what you are thinking…one thing would be how to set this up. You set the stage, right? We could call this a clean entrance — you are making an entrance. The second thing that you're doing is you're creating contrast. You want to show that there's a vulnerability and that was incredibly inventive on your part to have superheroes — those who have such blatant obvious vulnerabilities — and then you're creating a country in conflict.
07:40 – Stan Lee 
We have to have the purpose as well. A silly example is when I'm introduced on a panel, or if I'm making a speech, the person introducing me will say something like, 'He needs no introduction.' So I'll interrupt the guy and say, 'Geez. Every time I'm introduced, people say I need no introduction. But for once I want an introduction. Why can't I get an introduction like other people?' The audience starts laughing. They figure, 'Well, maybe he's not going to be as dull as I thought he would.' Okay, that gets things off on the right foot. The whole thing is, I don't think people like to be lectured to. They like to be talked to as though we are just friends communicating. And that's the way I try to do it when I make a speech, which probably has nothing to do with what we're talking about here.
11:02 – Stan Lee 
In a comic book, everything is art. For example, when I would write a story, the way I would work is that I would first give the artist the rough outline of what I wanted the story to be. Then I give a synopsis of what I wanted the story to be, and I would let the artist draw it his own way. I don't say, 'In panel one, I want the close up of this character.' I just say, 'This is the story. You tell it your way. You might want to draw a long shot, not a close-up. I want you to be comfortable with the artwork.'
I would then get the pages drawn. Now, if it were up to me to make the story so that it made sense and was exciting to the reader, I would look at each panel. And before I would write the dialogue, I would say, 'This panel has two people talking. It's not an interesting looking panel, it's just two heads looking at each other. Therefore, I'm going to put in a lot of dialogue with a lot of boldface words to jazz up the panel.' This is my chance to tell a lot of story. I would look at another panel that had a very exciting bit of action, or a very dramatic expression on a character's face. I would say, 'In this panel, I would use very few words, maybe none at all, maybe just a sound effect, or maybe just a short caption, because I want the artwork to stand out.'
The way I worked, writing the dialogue was almost being in partnership with the artist making that page look good. There are many ways to tell a story. I can tell a story with few words, or a lot of words. I tried to accommodate the artwork.